Attic Ladder Installation Perth by Attic Lad WA
Attic Ladder installation Perth- by Attic Lad WA recently installed one of his quality aluminum attic ladders and created 12 sq meters of attic storage for Michael and his wife at their new property in Aveley. Michael and his wife had only just moved into their new home. Like a lot of people who move in to new homes he found that there was not enough storage space. That is when Michael contacted Attic Lad WA . I was more than happy to solve their storage problem by creating them some much needed storage space in their roof and installing them one of my quality aluminium attic access ladders.
Sea safe boat school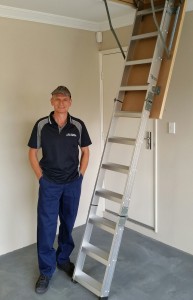 I alway enjoy meeting interesting people and Michael was a real interesting character who runs his own business.  Sea safe boat school  for recreational Skippers Ticket.  At a tender age of fifteen Michael started his sea career as a deep sea trawlerman working mainly in Iceland, Greenland and the north cape of Norway. Yes! Just like "Deadliest catch".
This unique training. Along with his 12 years of skipper work of dive charter vessels and river cruises, here in sunny Perth has given him great experience in Shipboard safety in all manner of vessels. Including large trawlers, cray boats, hovercraft, charter boats and all types of recreational vessels. You will get many tips from Michael on all aspects, including safety. This could help in keeping your friends, family and children safe, whilst enjoying the beautiful waterways that Perth has to offer . So please feel free to contact Michael on 0418923004 
Attic Ladder installation Perth  by Attic Lad WA
Do you need an attic ladder or  attic storage  installed at your home? Then don't hesitate to contact Paul on 0423 423 334 to get your free, no-obligation quote today. Attic ladder installations start from just $695.00. Attic ladder and 12sq meters of attic storage from only $1600. To check out my completed projects and to see my many great reviews, please visit me on Facebook. For more information about my attic ladder & attic storage installations, please visit my Attic Ladders page.