Roof Ventilation Perth
Roof Ventilation Perth – by Attic Lad WA
One of the best whirlybird  Roof Ventilation I recommend and use is the Edmonds TurboBeam. Which is a wind powered roof ventilator that has been designed to both exhaust heat and provide natural light to the roof space, improving comfort in your home or storage area.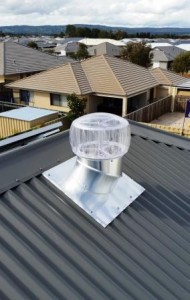 The ventilator has a clear acrylic head which provides high efficiency ventilation and allows natural light to enter the roof space. Ideal for attic storage spaces, garages and sheds.
The attractive clear acrylic head and streamlined design means it will complement any house design, whilst offering the additional benefit of acting as a skylight, when installed in sheds, garages and roof spaces. It's been designed to be strong enough to withstand strong wind and rain and is backed by a 15 year warranty for peace of mind.
 Solar – Roof Ventilation Perth 
Attic Lad WA recommends and uses The SolarKing  Roof Ventilation Attic Extraction Fan, it is an attic ventilation systems installed into both commercial and residential roofs, to remove the trapped heat between the ceiling and the roof. The temperature inside your roof/attic space can reach temperatures up to 70°C (170°F) during the summer months, which creates a heat load on ceiling insulation and air conditioning duct work. Solarking Roof Ventilation Fan utilizes the alternative energy source from the sun, which then costs you nothing to quietly exhaust the hot air and help reduce the cooling costs of your building and improves ventilation.
During the cooler months any moisture laden air trapped inside your roof/attic space can condense in the cooler air resulting in the growth of mold and mildew. Circulating clean fresh air will reduce the occurrence of this and prolong the life of your roof.
SPECIFICATIONS
Capacity

2100 CBM Per Hour

Motor

35 Watts, 6-19VDC, 1600rpm Max, Brushless Motor with Double Shielded Ball Bearings

Solar Panel Type

Monocrystalline PV, Heavy Duty Frame, 3mm Tempered Glass

Solar Panel Output

35 Watts, 18VDC

Fan

300mm 3 Blade Balanced Aluminium Alloy Low Resistance

Noise

<45dBA Automatic

Automatic Shut Off

<25° Celsius +/- 5%

Product Dimensions

565x565x260mm

Flashing Dimensions

565x565x1mm

Product Weight

7.8Kgs

Construction

Aluminium Top Cover, Aluminium Body, Steel Brackets and Stainless Steel Fasteners

Colour

Black Powder Coated

Packing Dimensions

580x570x282mm

Packing Weight

9.6Kgs

Warranty

2 Year Warranty (10 Years on Solar Panel)