6 Major Considerations on Attic Storage Ladder Installations
Your Guide to a Safe, Durable and Sturdy Roof Storage Ladder by Attic Lad WA
Whether it's a spacious storage haven or a tiny crawlspace, attic storage ladders are the secret stairway that leads you into a whole hidden world. Its efficiency determines whether your attic becomes a frequently used space or a forgotten zone. A good attic ladder makes every trip up and down safer, easier and quicker.
From squeaky springs to rusty jams, faulty ladders can be hazardous. Unfortunately, due to its rare usage, tell-tale signs are frequently ignored. Here are some common signs of a faulty ladder:
–    Failed springs
–    Damaged hinges
–    Cracked lumber
–    Missing nuts and screws
–    Incorrect length
If you can identify with the above, it might be time to hire a professional to install a new attic ladder. Whether it's an upgrade or a replacement, Attic Lad WA is Perth's expert on the subject. We'll discuss some important considerations and point you in the right direction towards a safe and convenient new attic ladder.
Attic Ladder Placement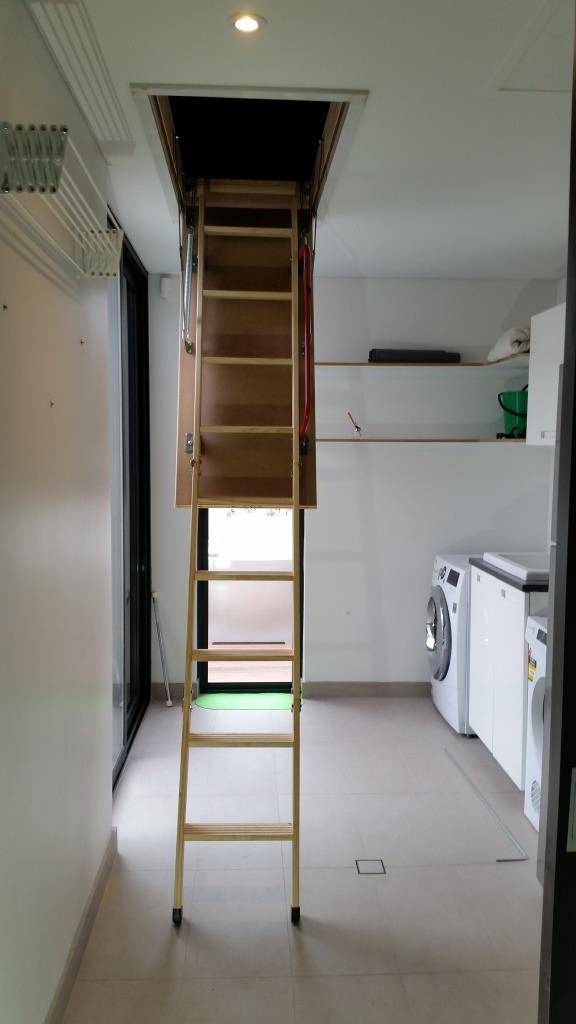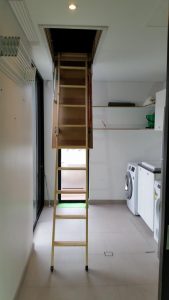 Start with location. Your attic ladder needs clearance space to extend. When choosing a place, make sure to avoid any possible obstructions such as an air-conditioning unit. Ensure the bottom of the ladder is well pitched to the ground in an open space with enough room for you to maneuver around when the ladder is fully extended. Installing one near your home's staircase landing, for example, might not be a great idea.
Quick Tip: Attic Ladder in Laundry Room
Here's an example of an ideal ladder installation I recently completed in Shenton Park. My client, Kevin, and his wife had newly renovated their property and were looking for an upgrade on their storage space. I installed a quality wooden ladder with a 10sqm attic above their laundry area. Kevin was kind enough to leave me a great review!
Attic Ladder Space Requirement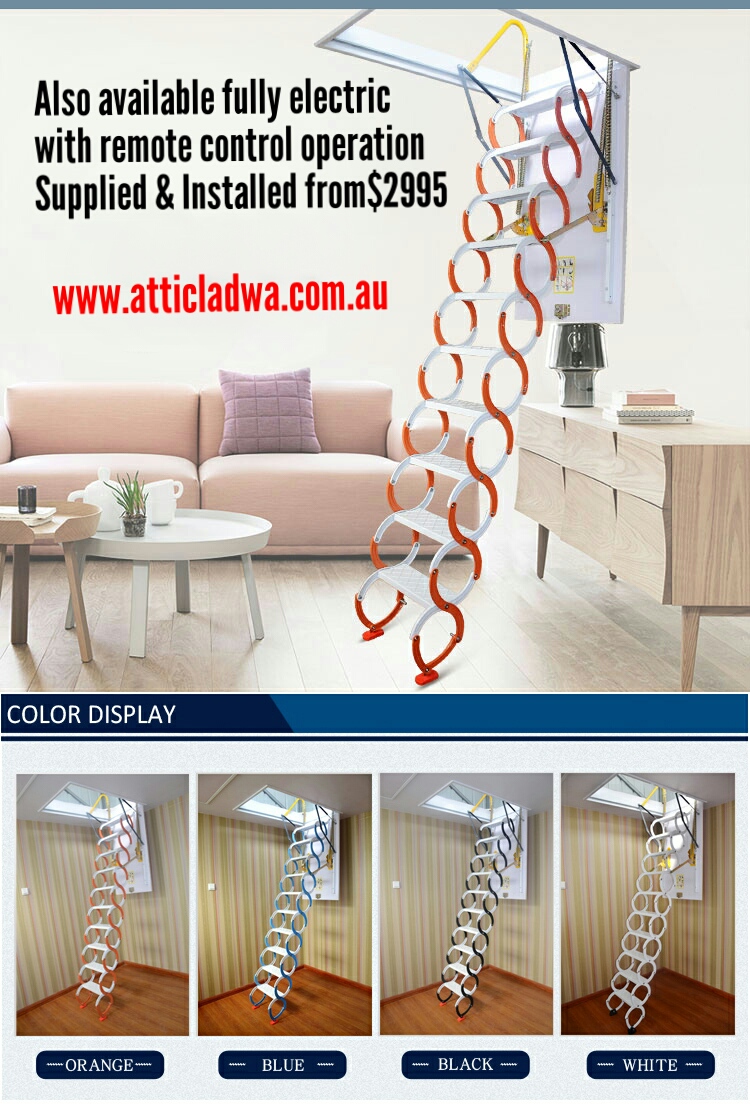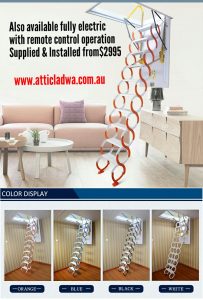 Standard attic ladders fit through an opening of 22-½" X 54". Although they are designed to accommodate existing ceiling hatches, they don't in many cases. I sometimes recommend the enlargement of attic entrances in order to fit a sturdier ladder that can not only support more weight but also be wide enough to comfortably carry bulky items. Also, remember check for the headroom. It's no fun banging your head against the roof each time you fetch something from your attic.
Quick Tip: Ladders for Restricted Spaces
If you have a tiny attic that does not fit a standard ladder, consider my scissor attic ladder! The model's made-to- and comes with a 3-year warranty. Small doesn't mean weak! The scissor ladder has strong durable pivots and is appraised to carry as much as 300kg of weight, making it one of the strongest attic ladders in the market!
Attic Ladder Frames
Your existing attic floor is most likely framed with either trusses, or individual rafters and floor joists. The standard framing uses the latter which can be easily be reinstalled or reorganized. This is unlike the truss roof that is more rigid and should not be readjusted or cut due to its interlocking system. If you are thinking of enlarging your attic entrance but are unsure of where to start, it is always wise to engage professional help to decide on your best course of action.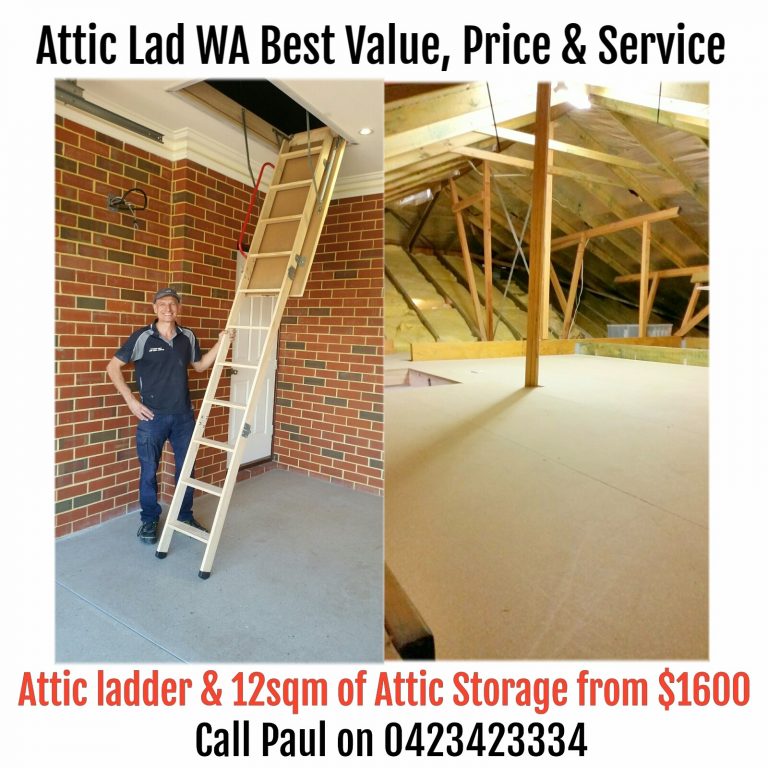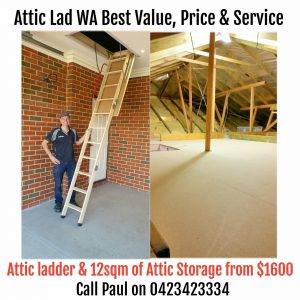 Quick Tip: New Attic Space
Looking to reinforce or revamp your attic space? Give me a ring. I provide the best value, price, and service when it comes to attic storage. My installations start at $2000 for a 10sqm platform complete with a deluxe ladder.
Attic Ladder Features
Going up into the attic should be a breeze. Your ladder should be convenient, safe and easy to use. I usually recommend my customers to go with ones that come with handrails. That aside, there are generally two designs when it comes to functionality: folding and telescoping.
Let's compare the usability of them both. Manually folding ladders can be a hassle to operate and require more attic space to be stowed away. They are designed to unfold into a steeper angle of about 64 degrees. This is similar to your run-of-the-mill ladder used for painting ceilings. In comparison, the telescoping ladder folds and stores easily. You can even opt for a remote operated model. They are also easier to climb with an extended angle between 53 to 57 degrees.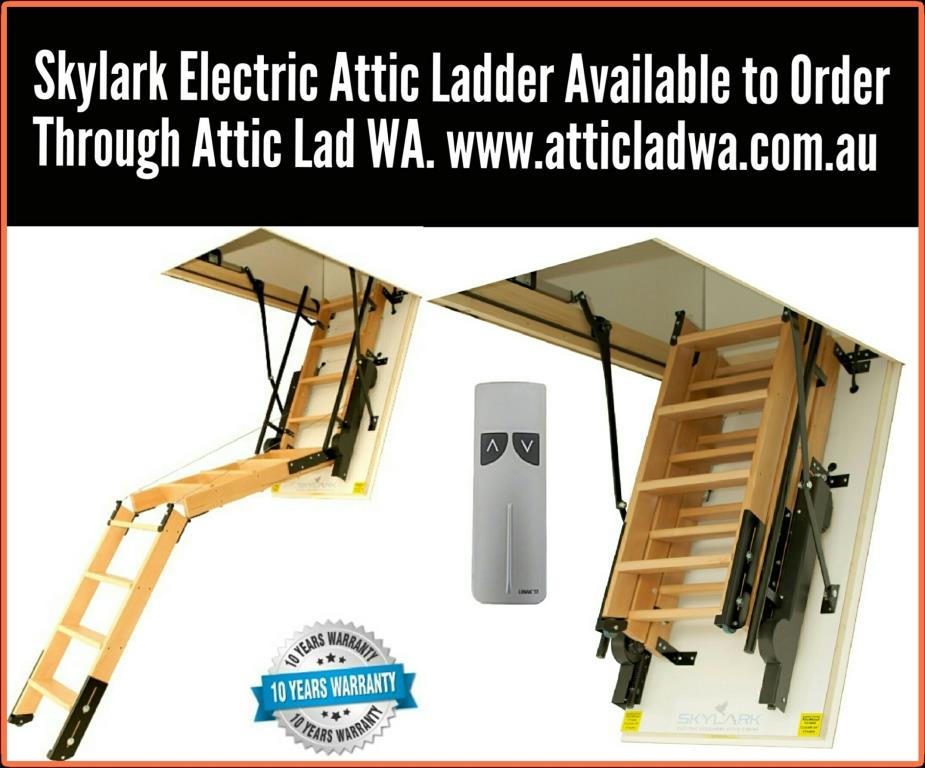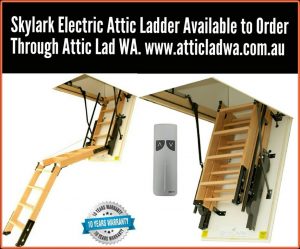 Quick Tip: Choosing to go "Effortless"
For effortless attic passage, consider these stairways to heaven! I install both the Skylark Electric and the Concertina Scissor Attic Ladders, both of which come with a remote control feature. No manual effort required, the ladders will extend with a push of a button. You can even operate the 10-year warranty covered Skylark ladder with a smartphone!
Attic Ladder Materials
Steel, aluminium or wood, it's not just about aesthetics. I usually recommend aluminium as they are lightweight and rust-resistant. Aluminium ladders can stand the test of time and conditions such as humidity and temperature changes.
Although heavier to operate, some of my customers prefer the traditional wooden ladders. They are incredibly strong and sturdy, making it easier to carry heavy items up and down without the shakes. They tend to be a popular choice for elderly clients.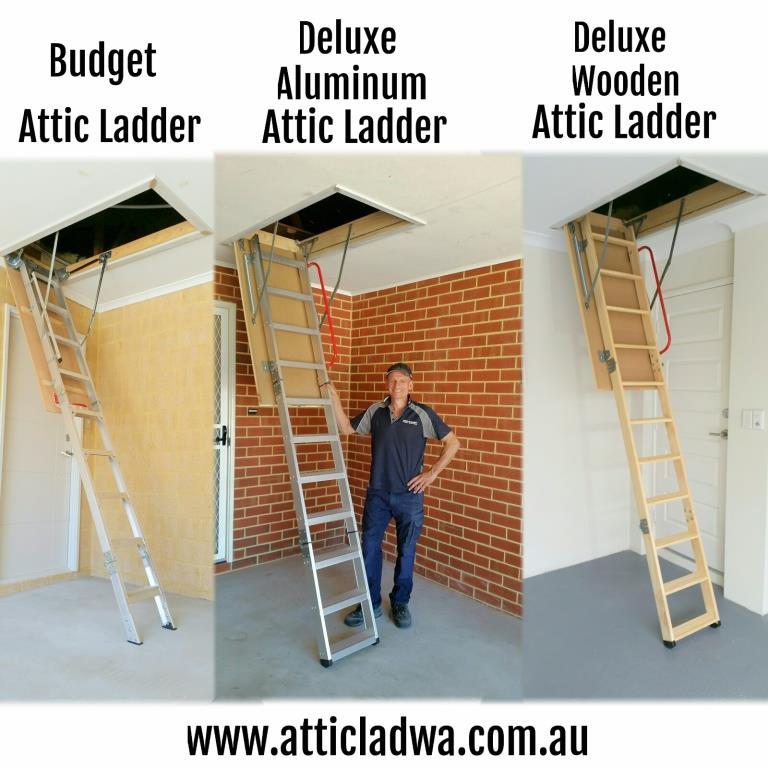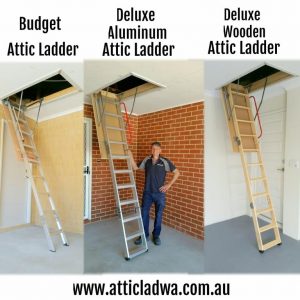 Quick Tip: Working with your Budget
No matter your budget, I've got you covered. Working very closely with all my clients, I understand their requirements and make professional recommendations based on many years of my experience. Prices start at $ 695 for a fully installed ladder.
You can pick from my attic ladder range of deluxe aluminium, deluxe wood or entry-level models.
Attic Ladder Weight and Length
Attic ladders are not designed to hang free at the bottom, nor should they leave any scratches on your floor. The bottom stiles should always accommodate the correct angle to sit flat on your floor. Attic ladders come in different lengths. It's important to correctly measure the height from floor to the ceiling in order to install your ladder correctly.
Another safety consideration is the weight capacity of your ladder. It's always wise to go by the weight of the heaviest person who will be using the ladder, in addition to the load that he or she will be carrying. This means that the 250-pounds option is usually safe, but a ladder with a 300 pounds' capacity would be a better choice.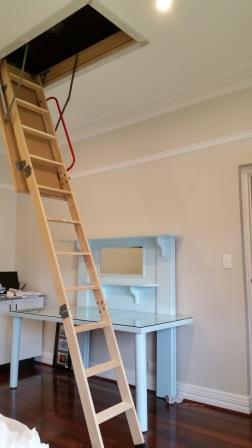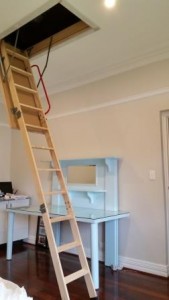 Quick Tip: Custom Height Ladders
I install ladders going up to a ceiling height of 3.3 meters. Here's a recent wooden loft ladder I've done for a federation style home in Redcliffe. The ladder reached a 3m high attic.
Getting Started
I hope this article has helped you to understand the importance of proper installation for a safe attic storage ladder. If you still have any questions, I'd be happy to answer them. All you have to do is call me, Paul, at 0423 423 334, or leave a message to get a free, no-obligation quote. My amazing customers have scored me a 5 out of 5 based on nearly 200 reviews. You can check out more of my great testimonials and completed projects on Facebook & Google my Business.