Attic Lad WA – Attic Storage Installation- Steel Frame Roof
Attic Lad WA offering the best service when it comes to the installation of Attic Storage Installation- Steel Frame Roof to your home.  He has options for the installation of Attic ladders to be installed in to steel frame roofs. This has been a challenge over the years for home owners with steel roof design.
Ellenbrook -Attic Storage Installation- Steel Frame Roof
However, Attic Lad WA has installed many attic ladders in to steel frame roofs in his career. His recent job was to install one of his  deluxe wooden attic ladders into a steel roof in Ellenbrook . The customer was having difficulty in freeing some space in his house so as to enable him start a big restoration project on his home. Attic Lad WA helped Kevin find a solution to this storage problems by creating a 15 square meters of light attic storage in to his Steel Frame Roof using his creative and innovative Attic Storage Solutions.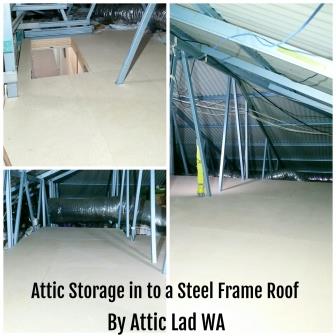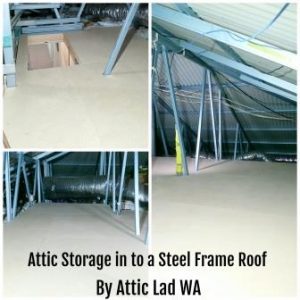 What to Do About Your New Created Attic Space
The best way to enjoy your newly created Attic Space is ensure that it is well organized and cluster free. This will important as it will enable homeowners to make optimal use of their attic space. This can best be done by storing your properties in storage crates before putting them in the attic. This will help to make the attic space organized, clutter free while protecting your properties from dust.
Attic Storage Installation- Steel Frame Roof
Do you want to create an Attic Storage Installation- Steel Frame Roof in to your home? Are you interested in installing attic ladder in your steel frame roof? If the answer is yes, then contact Paul on 0423 423 334 to get a free non obligatory quote. Attic Lad WA has different installations package for his Attic Ladder starting from $795 fully installed. Attic ladder and 10sqm of attic storage from only $2000 fully installed.To check out my completed projects and to see my many great reviews, please visit me on Facebook.  and Google my Business For more information about my attic ladder & attic storage installations, please visit my Attic Ladders page
Attic Lad WA providing you with the best Attic Ladder and Attic storage installation service in Perth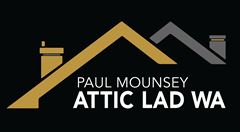 Product Review
Reviewer
Review Date
Reviewed Item
Rating