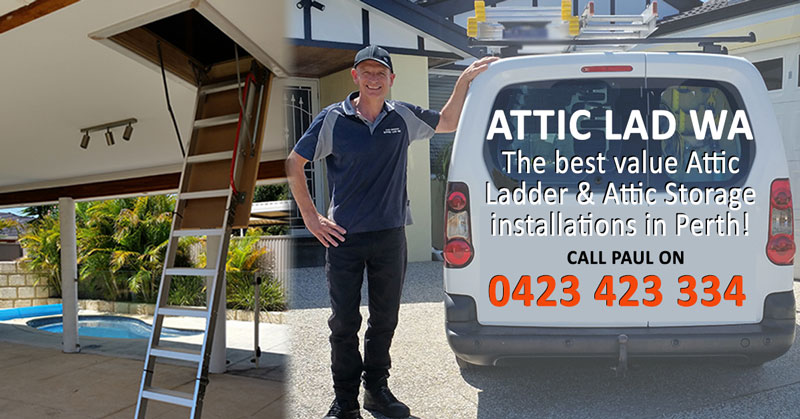 Take Away:
Attic Lad WA Highly Reviewed Attic Ladder Installer
When I say that Attic Lad WA is the most highly reviewed and rated attic ladder and attic storage installation services in Perth, I'm not exaggerating! Here are just five of my highest number of Google reviews for you to check out. You can see them all on my Google Plus Business Page.
John Harrington
Very happy with Paul and the service he has provided. Before he had finished I had already booked him to extend my attic further. A quality installation at a very competitive price done in a professional an efficient manner.  A good bloke to boot! Couldn't recommend him highly enough.
Thanks John it was an absolute pleasure to meet you and carry out work for you and I am pleased to hear you are happy with the work I carried out for you. Regards Paul Attic Lad WA
Interested in a storage attic conversion for your home? Call Paul for a free quote today.
Suzanne Frame
Highly recommended! We can't speak highly enough of Paul and his team. He was efficient, honest, and provided great value. We are very happy with the work he did in installing an attic in our century old home.
Thanks Suzanne for your kind words I always like to do the best for my customers.
Anna Charlton
Professional, friendly and prompt – Paul was great. From the initial quote to the final job we were impressed with Paul's communication and how helpful he was. We wouldn't hesitate in recommending him to others and we are very happy with our new attic ladder and storage.
Thanks Anna & Michael for your review it was a absolute pleasure working at your home. I am pleased you are happy with your new attic ladder and attic storage.
Ryan Healy
We had Paul out recently to install an Attic Ladder and some flooring in our roof. He was able to fit us in quickly and the end product is 100 times better than we could have asked for. Very efficient and attention to detail is first class, especially for a picky bugger like me. Can't recommend him and his services enough. Now we have room to store all the kids toys. Thanks Paul.
Thanks Ryan for such a great review I always do my best for my customers.
Stephen Davies
Paul was on time for the appointment, on time for the installation, polite, and for a change  a tradesman who actually takes pride in his work. He pays attention to detail in his finishes which make a big difference. It's those one percenters that makes his work a quality job. One very satisfied customer.
Thanks Stephen I'm always happy to hear my customers are happy with the work I carry out for them.
Regards Paul Attic Lad WA
Adena Leach  Facebook review
If I could give Paul 10 stars I would ! He did an awesome job on our storage space, he is pleasant, accommodating and very helpful. I would seriously recommend him to anyone needing additional storage. Thank you Paul
Thanks Adena It was a absolute pleasure to carry out work for you and Colin and I am pleased you are happy with your new attic storage area. Regards Paul Attic Lad WA