Roof Space Ladder & Roof Storage by Attic Lad WA
Creating storage around modern homes is becoming difficult due to the smaller block size that is being used for building homes these days. This leaves us with the predicament of where to store items like suitcases, Christmas decorations, kid's toys, camping gear and all other belongings which require valuable space in our home.
Have you considered having a roof space ladder installed and roof storage? Attic lad WA`s roof space ladder installations start at $795. Roof storage package's start at just $2000 fully installed.  Getting a good quality product at the right price is of paramount important when choosing a roof space ladder. Attic lad WA is your one stop shop for good quality products especially with his wooden & aluminum roof space ladders and his roof storage installation service. This was the case of Kieran an happy Irish man, who after building his dream home  and after having two beautiful  children  found that he and his new family need more storage space.
Roof Space Ladder & Roof Storage installed For Kieran
Kieran and his family had a large house but they needed more storage space in their new home. Kieran was able to contact Attic lad WA after finding him on Google. After reading many of my 5 star Google reviews Kieran contacted me. I was able to build him a comfortable 15 sq meter attic storage platform. A wooden roof space ladder was used.
Attic Lad WA`s Attic Storage Solutions!
Attic Lad WA helped Kieran solve his storage problem with his Attic storage solutions. It's always nice to be praised for the work that I carry out. Kieran further took to my Google my businesses  page  to give me a five star review.  Here is what he wrote –
Paul and Jackson were amazing, very professional, both arrived in time and done an amazing amount of work in such a short amount of time, loving the extra space they have created for us, even made time for the kids(our 2 year old wanted to help)

Response from the owner

Hi Kieran it was an absolute pleasure to install your attic storage and to meet your lovely family and thank you for hospitality regards Paul Attic Lad WA
You can also view many other reviews from my customers on my Facebook. and Google my Business
I always thank my customers who find time to post a testimony regarding my work.
Prices
At Attic lad WA, the prices are affordable. My installations start from only $795.00
Roof space ladder and 10sq meters of roof  storage start from only $2000 fully installed .
Do you require an aluminum attic ladder or a wooden attic ladder installed at your home? Then look no further. Attic lad WA is the best place for you.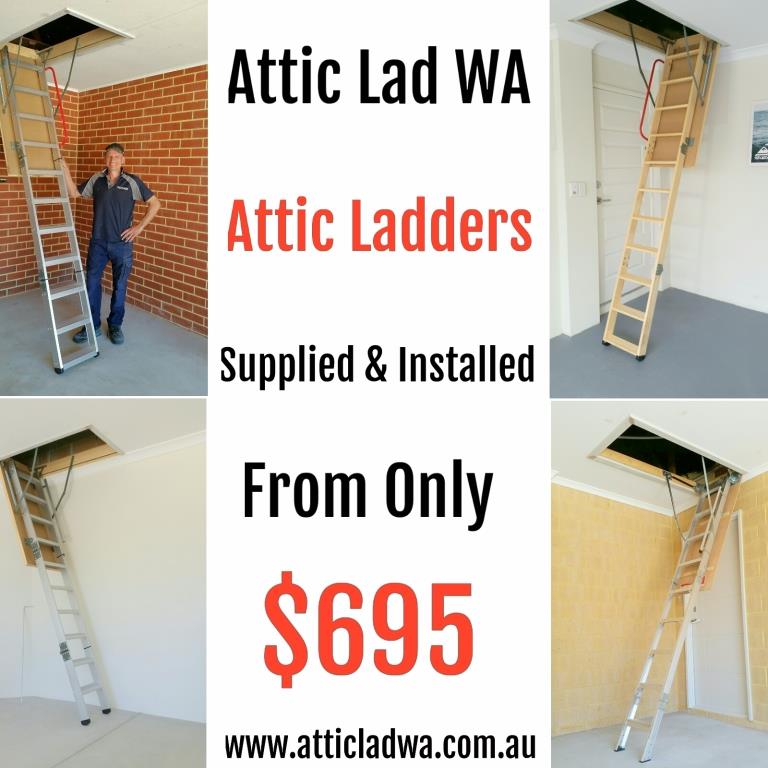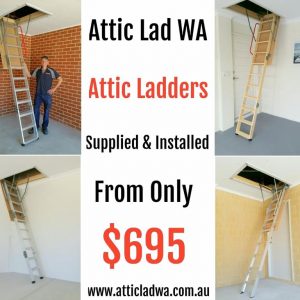 Contact us
Call Paul on 0423 423 334 for your free, no obligation quote today.
For more information's on Attic lad WA  installations, views of my completed projects and reviews of my company, Meet me on Facebook.
For more information about my Attic Ladders & attic storage installations, please visit my Attic Ladders page.
Product Review
Reviewer
Review Date
Reviewed Item
Roof Space Ladder & Roof Storage by Attic Lad WA
Rating