Attic / Loft Ladder Installation By Attic Lad WA
Attic Lad WA offers the best value Attic / Loft Ladder Installation in Perth. I use a number of different ladders going up to ceiling heights of a maximum 3.3 meters. My recent works included the installation of a Wooden attic / loft ladder to a 3 meter high ceiling in a federation style home in Redcliffe. The old homes are always a bit of a challenge, but not for Attic Lad WA.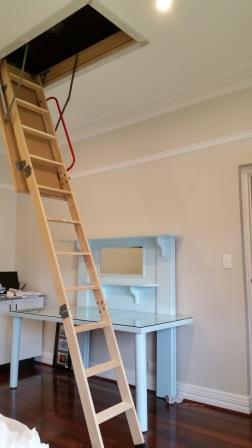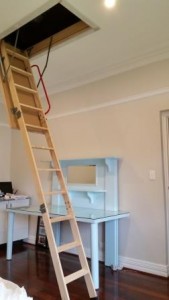 This particular home was a little bit tricky as it did not have a loft access hatch to the loft. So the only way I could get in to the roof space was to remove some roof tiles. Lucky  for Attic Lad WA I am a slim chappy so in I squeezed without any problems.
The customer was very happy with my recommendation to install a wooden ladder.  I always think the wooden attic ladders work best with the older style homes as they look more in keeping .
Attic / Loft Ladder Installation by Attic Lad WA
Do you need an Attic / Loft ladder or attic storage  installed at your home? Then don't hesitate to contact Paul on 0423 423 334 to get your free, no-obligation quote today. Attic ladder installations start from just $795.00. Attic ladder and 10 sq meters of attic storage from only $2000. To check out my completed projects and to see my many great reviews, please visit me on Facebook. For more information about my attic ladder & attic storage installations, please visit my Attic Ladders page.