Tips on Attic Storage Conversion
Attic WA answers FAQs on Attic Storage Transformations
"I have too much storage space," says no one ever. Today, houses are seemingly shrinking with surging real estate prices. Yet our materialistic possessions continue to pile up with improved standards of living and modern-day must-haves. Thus begins the never-ending hunt for more square footage at home to compensate for over-spilling cabinets.
More and more people are looking upwards instead of out when it comes to fulfilling extra storage. The solution might be hovering right above your head. Converting the wasted loft space under your roof into a practical, functional storage space is not as complicated and costly as building an extension to your home.
With nearly 200 amazing reviews for attic storage installations, Attic Lad WA is Perth's professional expert on the subject. With no two attics made alike, I, Paul Mounsey, Attic Lad WA's owner, am glad to answer some frequently asked questions on Attic Storage Conversions.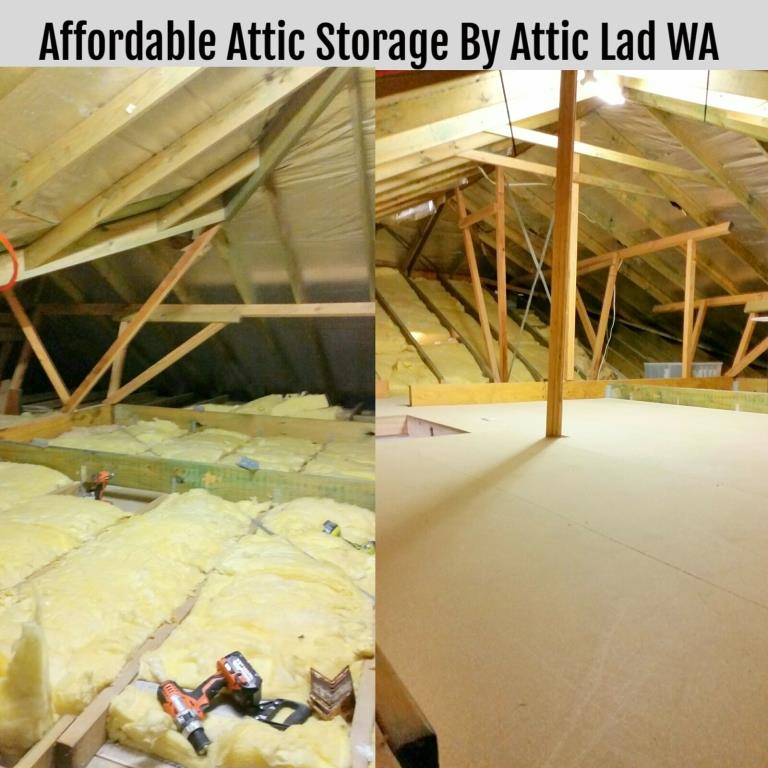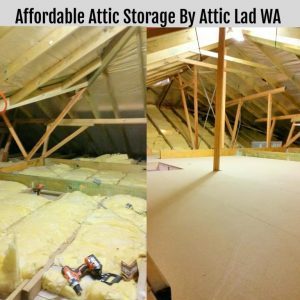 Can my Attic Be Converted into Storage?
If you are worried about the frame structure of your home, fret not. The majority of homes in Perth can accommodate an attic storage space. It is always advisable to get a professional evaluation to see how your conversion plans can be implemented. Some of my clients prefer to install their attic in the garage, and some in their homes themselves. Garage attics are usually ideal for newer homes where the attic storage can extend over the front part of the house.
Depending on your headroom, the best place to build your attic floor is where the highest part of your building's roof is. A recommended head height of 2.2 meters is ideal. This allows for more headroom so you don't bump your head each time you are up there. Air conditioning units that might be in the way can easily be moved and rerouted for a small cost and therefore should not be much of a concern.
If you need the advice to get started on your attic space conversion, I'd be glad to answer any questions! I promise you the process is less daunting than it sounds. Building attic storage is a big investment, one that I aim to make as affordable as possible. My installations start at a competitive rate of $2000. This includes a full 10sqm attic storage space, an attic ladder and of course, quality workmanship. I am personally accountable for handling your entire project from inquiry to installation. I also acquire materials such as attic ladders in bulk from a manufacturer. This means no added manpower costs and lower prices for you.
Where's the Best Location to Install the Attic Ladder?
Don't forget that you need to accommodate space for a drop-down ladder below your attic. Passageways and hallways are great locations to consider for attic ladder installations, as they provide enough ground and space for you to maneuver when carrying bulky items up and down the attic. As you can imagine, a staircase landing would not be the best idea as it allows for little room and not enough flat ground.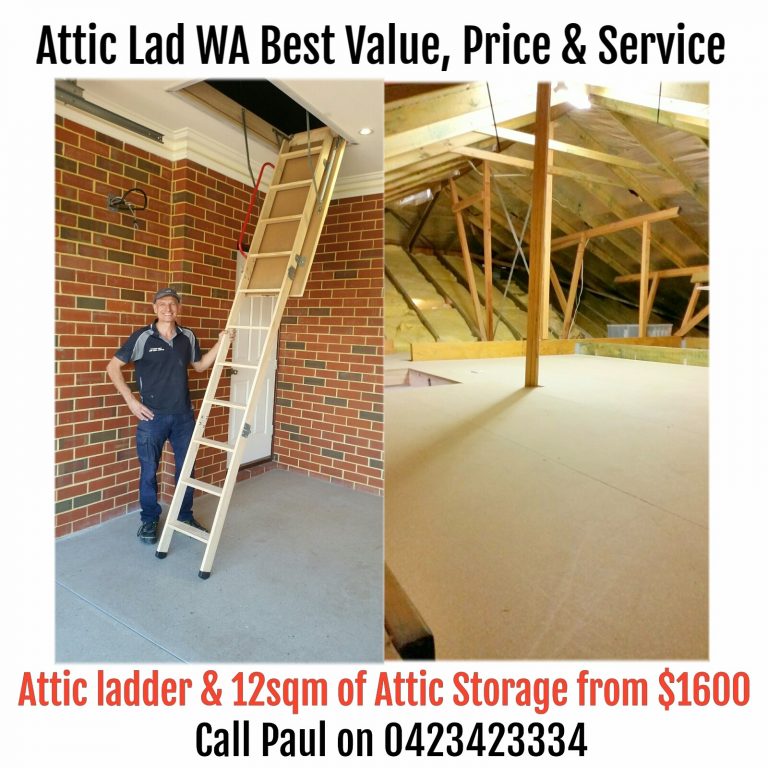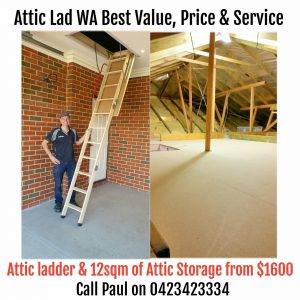 Is it Safe to Use My Attic for Storage?
Never overestimate the weight limitations of your attic. Before converting your attic, engage a professional to check how much extra weight your home's foundation can handle. Sometimes building reinforcement or a new floor system might be necessary.
Unless your original attic has been engineered to withstand extra weight, the safe assumption is that they are simply designed to solely support the weight of your roof, and should not be used for storage. This is when Attic Lad WA comes in. I build strong and sturdy attic storage that can withstand a max load of 75kg/sqm. This provides you with ample allowance to install shelves and hooks to better organize items in your roof storage.
How Can I Keep My Attic Storage Cool? 
Your roof storage will be the place most susceptible to outdoor climate. This means it will be the coldest and hottest place in your home depending on the season. The temperature inside your attic space can reach temperatures up to 70°C in Perth during summer. This heat load can adversely affect your air conditioning ductwork and ceiling insulation. Add to that, the heat can also damage storage items such as photographs, important documents, and even candles.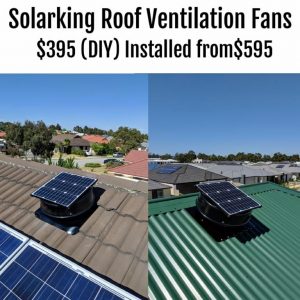 This is a problem easily remediable with a simple add-on ventilator. Ventilators regulate the internal temperature of your attic storage so your items do not get damaged by heat. Take, for example, this 10sqm storage space I recently completed for a family in Jindalee Beach. I added a solar-powered ventilator to the roof to extract heat from the room so the client can store any items they like with peace of mind. The installation allows for more powerful cooling abilities and cost-efficiency than a standard whirlybird.
How can I Reduce Dust in my Attic Storage? 
With any uninhabited space, dust collects. Going up into the attic can become a nightmare if you have a severe dust allergy. That is not to say this can't be prevented. Instead of a dark and dingy dungeon, your attic storage should be an easily accessible and inviting space. Lest the items in the roof storage are forgotten.
If you need a dust-free atmosphere, you might want to opt for dustproof attic storage. They are a fantastic solution to providing safe and clean storage space to stash away all your valuables.
Basically, the installation involves building a stud framework into the flooring, after which the walls are lined with a heavy-duty foam insulation product. The foam product is an advanced innovation made from high density closed XPE foam material sandwiched between layers of poly-woven foil. It provides excellent thermal properties and is highly tear-resistant. The superior thermal ratings also reduce the thermal bridging between the roof and the attic room.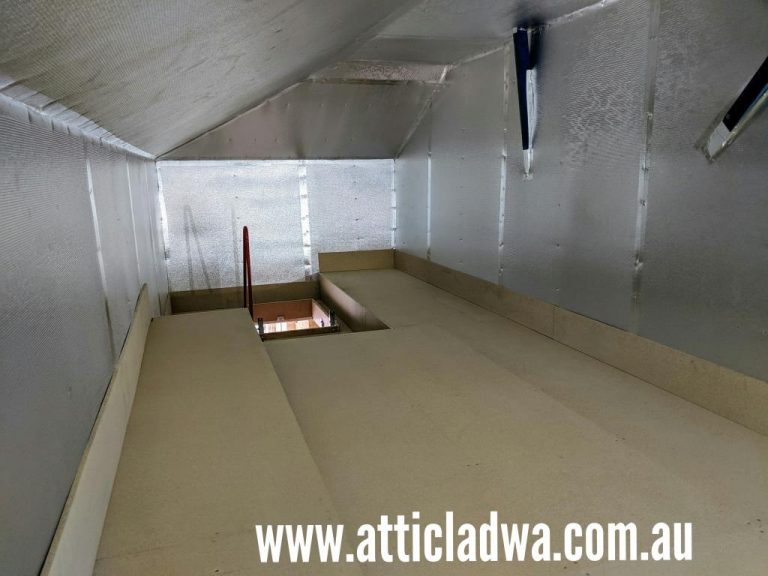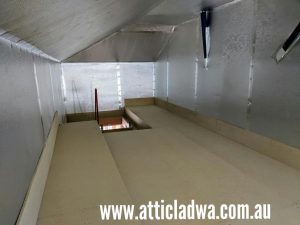 My fully enclosed dust-proof attic storage starts at $5,200 and comes complete with ventilation and an access door. A Turbobeam Whirlybird helps to extract heat while allowing natural light to flow into the attic storage space.
Get Started
I'm sure you have more questions on attic storage conversions, and I would love to answer them! All you have to do is call me, Paul, at 0423 423 334, or leave a message to get a free, no-obligation quote. My amazing customers have scored me a 5 out of 5 based on nearly 200 reviews. You can check out more of my great testimonials and completed projects on Facebook, Houzz and Google my Business.