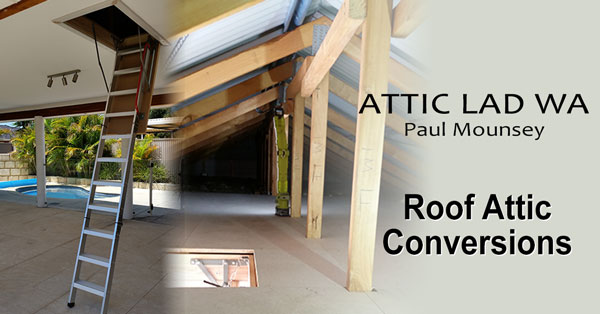 Take Away:
A roof storage attic conversion optimises the value of your home when time and money are limited. Read on to find out more.
The value of your home is determined by many factors which are taken into consideration by agents and buyers alike. Location is often one of the most important of these factors, with suburbs close to the Perth CBD doing well.
However, another key factor is how well your home serves the lifestyle needs of those interested in purchasing it. That's why it's essential you do everything you can to make your home really stand out. This will help get the best price in what is a buyer's market at the moment.
Why Consider A Roof Storage Attic Conversion?
One of the best ways to optimise your home's value is to renovate it! However, if finances and time are limited, then a major renovation may not be the best option for you. In these circumstances, an excellent option to consider is a roof storage attic conversion.
Converting your roof into a storage space is a creative, useful and functional way to add serious value to your home. In fact, attic storage will create extra useful space without changing the footprint of your home. Nor will having an attic storage conversion disrupt your day to day life as other types of renovations do. Just thinks back to the last kitchen, bathroom or bedroom renovation you did.
Interested in a storage attic conversion for your home? Call Paul for a free quote today.
What's Required?
To convert your roof into an Attic Storage solution only requires an attic ladder, appropriate flooring and a skylight. The skylight enables natural light to penetrate the space.  A roof storage attic conversion is a fantastic option because it enables the owners of the home to store infrequently used items not often used. This frees up core living areas of the home for a home gym, second living area or a games room. This too make your attic a major point of differentiation for potential buyers when you put your home on the market.
By making the most of your existing floor plan in this way, you can dramatically increase its market value. However, you can do so without the huge cost and inconvenience other renovation strategies require.