How a Dustproof Attic Storage Works
Attic Lad WA explains how dust proofing your attic can better preserve your keepsakes
Itching, sneezing, and teary eyes. These are the dreaded symptoms experienced by many who have a common allergy to dust mites. Your roof storage is the dustiest, hottest and most humid place in your home, rendering the conditions for a perfect dust mite breeding ground.
Any mention of the attic storage immediately paints a cringe-worthy inconvenient, forsaken and dusty picture in mind. Attics are often overlooked and abandoned though homeowners constantly strive to maximize storage in their homes. If you have unutilized an attic storage, perhaps its time to consider a remodel to make the space more accessible and appealing, lest it goes to waste.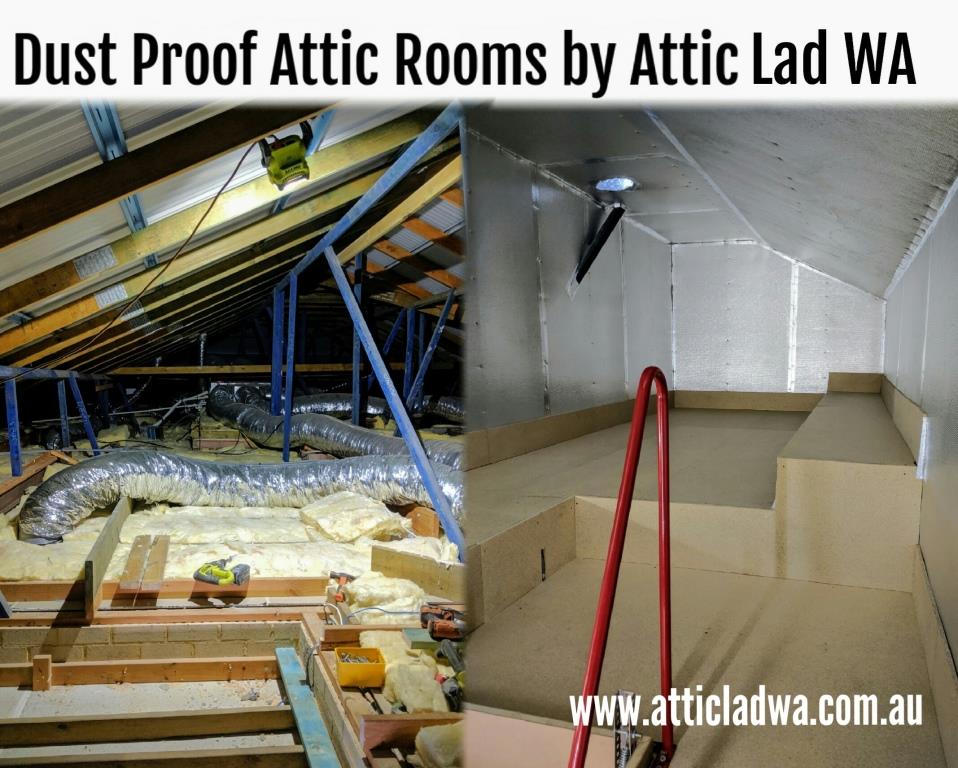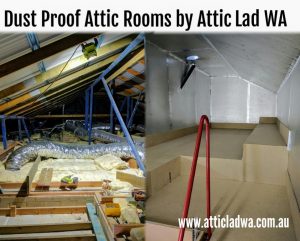 Ever heard of a dust proof attic storage? I promise you it's not as unaffordable and unattainable as it sounds. In short, dust proofing involves fully enclosing your attic storage with particleboards. The innovative installation provides you with the below advantages:
Prevention of dust allergies by reducing dust accumulation
Prevention of rodent, spiders and pest infestation
Cleaner and safer environment
Lighter, brighter and more pleasant space
Encourages regular use of the attic storage
Heat reduction inside the space to prevent damage of storage valuables
Improved value of your home
Having installed countless dustproof attic storage, Paul Mounsey from Attic Lad WA explains how the installation works.
Steps to Installing a Dust-Free Attic Storage
Step 1: Getting Your Attic Storage Basic Framework Up
First things first, you need to have functional attic storage. This means one that can support the weight of your storage items and the occupants. If you are unsure if your current attic works, it is important to hire a professional to assess the weight limit of your attic for safety reasons. If needed, you might need to implement a full attic storage conversion which involves reinforcing the structure and floors of your attic.
If you need help on this part, I'd be glad to answer questions. Attic Lad WA will build you a safe and sturdy basic attic storage for prices starting at $2000. This includes high-quality workmanship, a 10sqm space, and a fully installed attic ladder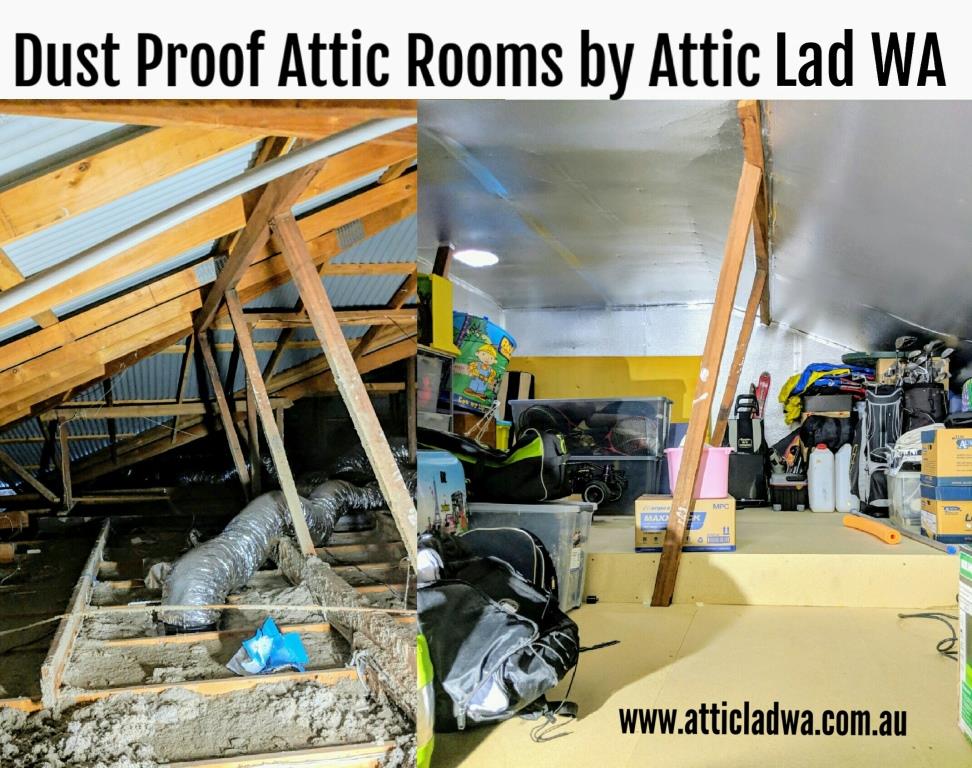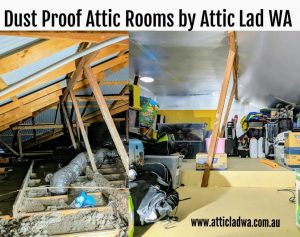 Step 2: Installing Attic Storage Dustproof Insulation
Next, a stud framework is built into the floor and walls are lined with insulation foam. This dustproof attic lining completely seals off the room from the rest of the roof space and home. It acts as a radiant barrier that reduces heat penetration from outside of the attic storage and does so by deflecting heat instead of absorbing it. This is a crucial step as effective dust proofing requires both correct high-quality materials as well as proper installation. As you can imagine, completely sealing off a room requires plenty of attention to detail in workmanship.
If you live in Perth and are looking for someone to completely take care of installation, I'd love to help! I install a full dust proof attic storage starting at $5200. The package includes a 10sqm attic storage built using termite treated MPG 10 structural joist to elevate the floor above the existing insulation. It also includes a quality deluxe ladder and roof ventilation.
Step 3: Installing Attic Storage Ventilators
I highly recommend this step for a complete and fully efficient dustproof attic storage room. Aside from Perth's scorching summer heat, ventilators can circulate fresh clean air and prevent the growth of mould and mildew during cooler months. This helps to prolong the life of your roof.
I usually install a rooftop TurboBeam Whirlybird for my customers to extract the remaining heat in the space. The installation helps to further cool the room down and allows for natural light to flow in, helping you to save on cooling and lighting bills.
If you are opting for a full dustproof attic storage package with us, your ventilation is already fully taken care of. We use the wind-powered Edmond's TurboBeam roof ventilator. The model comes with a clear acrylic head that also acts as a skylight while also complementing the design of your house. But if you are considering a standalone installation, we also install solar-powered ventilators like ones from SolarKing. The fan utilizes the alternative energy source from the sun which costs nothing and has powerful cooling abilities.
Why the Right Materials Matter for Dustproof Attic Storages
The right materials strongly determine how effectively your attic storage keeps out heat and dust. Here's why: There are three types of heat that affect a room. They are radiation, convection, and conduction, radiation being the strongest of the three. I use a 3-in-1 insulation which acts both as a vapour and a radiant barrier. As the name suggests, it effectively dissipates all three types of heat. Let me explain how the material does its magic:
Dustproofing
The insulation Attic Lad WA uses is a thicker 6mm heavy-duty material. This high-quality trusty insulation is reliably tear-resistant and perfect for completely sealing up an entire room. This takes care of dust and pests, preventing them from entering the space.
Heat Reduction
A closer look at the insulation material shows that it comprises of a double layer of poly-woven foil sandwiching a revolutionary high-density closed-cell XPE foam material. The foil effectively reflects up to 97% of radiant heat away from its surface. With radiation being the main contributing heat, a huge part of the problem is taken care of. This leaves the remaining small amount of heat which is absorbed and further dissipated by the conduction resistance of the material's polymer structure.
Though highly effective and tear-resistant, the 6mm 3-in-1 insulation is higher in cost and harder to work with. This is why many companies opt to use the cheaper 4mm 2-in-1 insulation instead. A dust proof attic storage is a big investment and one that should last through the years. It is always a good idea to understand what you will be getting out of your investment before you pull the trigger on your decision.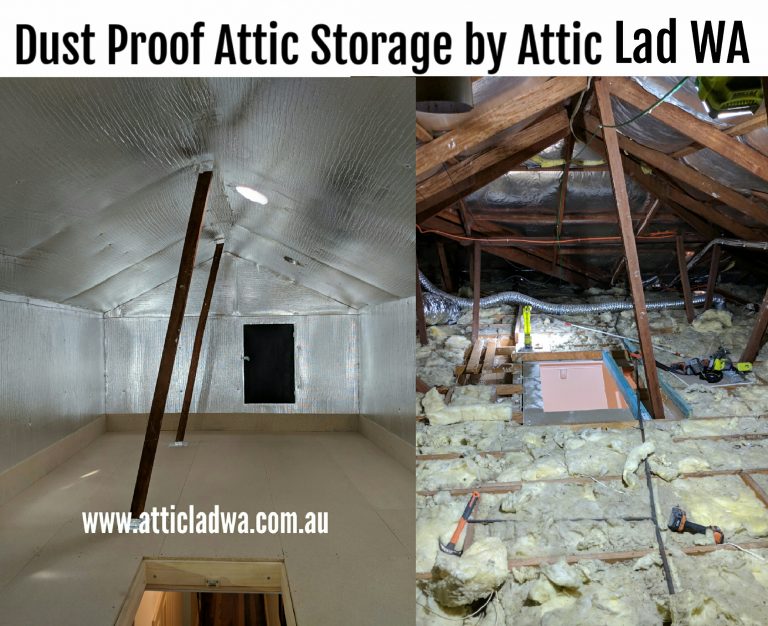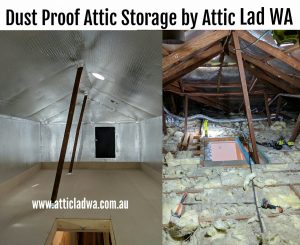 How A Dustproof Attic Storage Looks
Wondering about the end result? Here's a completed dustproof attic storage I installed for a client in Ocean Reef. Though the project was more complicated than usual, the owner was happy with the results and left me a great review:
"Paul completed a very difficult sealed dustproof attic at our home in Ocean Reef. His work ethic and quality of work cannot be questioned. I would have no hesitation in recommending Paul to anyone seeking work like this. It was a totally professional job and much more difficult than first thought but that was no issue to Paul. We are very pleased with the result."
Getting Started
Attic Lad WA's business is largely driven by word-of-mouth and its competitive prices. I am committed to working closely with you to provide a trustworthy solution for your attic storage needs. All you have to do is call me, Paul, at 0423 423 334, or leave a message to get a free, no-obligation quote. Many of amazing customers have scored me a 5 out of 5 based on nearly 200 reviews. You can check out more of my great testimonials and completed projects on Facebook, Houzz and Google my Business .
Product Review
Reviewer
Review Date
Reviewed Item
Rating