When shopping for the right attic ladder, you might wonder what type of ladder is best for your space. Attic ladders are an excellent addition to your loft or attic space that add convenience and safety. You no longer have to use an unstable standard ladder to move items in and out of your storage spaces.
Most attic ladders have a retractable set of steps that are pulled down from an access door. Some of the best features of having an attic ladder are their use of space, sleek design and ease of application. There is nothing worse than having a great storage space that is inaccessible because of how difficult it is to get into it. In fact, chances are if you are dealing with this problem you likely haven't seen the items in your loft for a good bit of time.
Let's take a look at the range of loft ladders that are available and what might be the best option for your specific needs and home.
The Grand Wood Loft Ladder
Attic Lad WA offers a grand style wooden attic ladder that is made from dense larch wood which tends to wear longer than other wood materials like spruce or pine. This type of wood typically has no knots making it stronger and aesthetically pleasing. The extra large treads offer the user a solid frame to stand on, supporting weights up to 260kg. Wood attic ladders are cost-efficient options that offer long durability.
Our wood ladders have a fold-up design and come with a handrail at its highest point. This handrail comes in handy with you are loading items into you your attic which gives you leverage to work with for additional balance. Finally, a wood ladder is also a lightweight option helping the end user move and manipulate it with a decent amount of ease.
The Deluxe Wood Loft Ladder
Our deluxe wood ladder is constructed from pine and is one of our most affordable options. Some of its key features are its durability due to its dovetail joints. The steps feature serrated surfaces which help the user feel secure when climbing or standing with its anti-slip facade.
The handrail of our deluxe ladder is made from steel which contributes to the ladder's overall feel of stability. It has a fold-up style and is another lightweight option. This ladder is designed to last year after year with minimal to regular use.
The Deluxe Aluminium Loft Ladder
This aluminium loft ladder has a pine casing and is more of a telescoping style ladder. What this means, is the ladder slides to get shorter rather than folding-up like the wood ladders mentioned above. As with our wood ladder options, this one boats plenty of durability and longevity. This ladder is intended for moderate use.
Aluminium ladders are relatively affordable options for getting to your attic storage. One of the better features of these ladders is that they are less susceptible to the elements. This means they are not prone to temperature variations that can impact other types of materials like wood. They also are a rust-resistant option for those of you who live in more moisture dense areas. You will love the aluminium option for its sleek design and simple and lightweight features.
The Budget Ladder 
This lightweight budget ladder is the perfect option for those who hardly need to use this ladder but a few times a year. It has a load of 150kg's and features wide anti-slip steps and handrail. This ladder is easy to operate giving you easy access to your roof space for those special moments, like getting to your holiday decor.
The Concertina Loft Ladder
This style ladder is one of the most versatile with a compact design requiring very little vertical clearance. These ladders are great options for those who have smaller attic structures and with more narrow openings in the beams.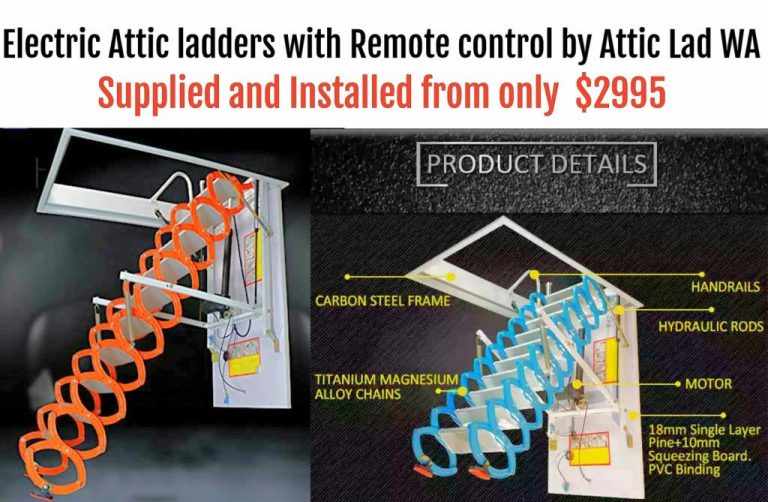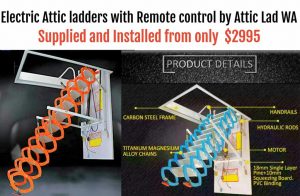 The is typically made of aluminium or steel depending on how it will be used and the location it will occupy. One of the best features of this ladder is that it can be manually pulled down and folded up, or there are also electric options available for maximum ease. These ladders are special order only.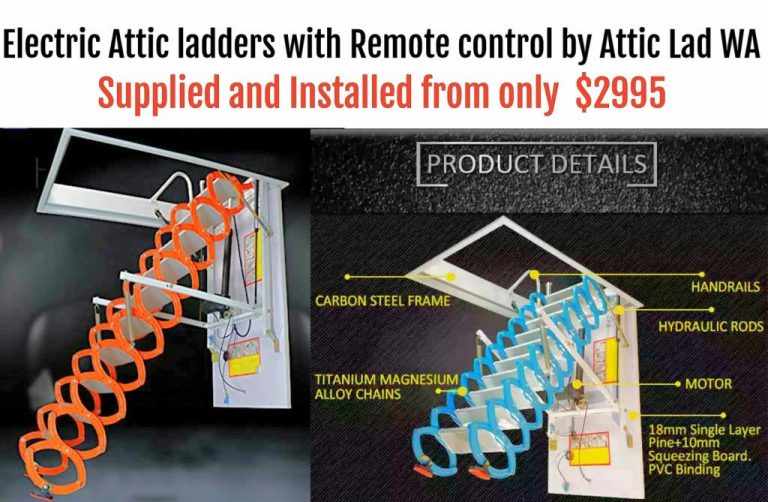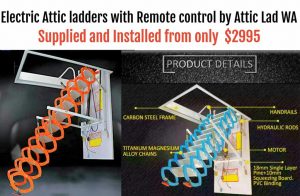 What You Should Know About Attic Requirements
When we come to your home for a no-obligation evaluation of your loft space, we will be filling you in about the requirements needed to install an attic ladder. Don't fear, we will walk you through the entire process. Here are a few basic elements that we will be taking a look at to install your attic ladder.
Location – We will start by evaluating a location to place your loft ladder. We need a space between the ceiling joists or trusses that will accommodate a human body passing through with ease. In some cases, there may already be an existing loft hatch that we can utilize. However, if a prominent location is not available, we will look for a space that can be enlarged in order to accommodate an attic ladder in the proper area.
Landing Area – When choosing the location, we will also look at a suitable landing area that offers security to assist with loading and unloading items into your attic. This includes the floor space and the ceiling height. It will be useless to place a ladder where you cannot stand up. Additionally, when it comes to flooring in your attic, we have plenty of attic flooring options to choose from. A secure floor will ensure that your items, and you, are safe to pass over.
Floor Location – Finally, we will also look at where the ladder will land on the floor beneath. For example, we do not want to install a ladder that runs into a wall or corner, making it difficult for you to load items in and out of your attic.
Insulation and Ventilation
Two important things that we will consider when installing your loft ladder are insulation and ventilation. Both of these elements are important to think about in terms of safety and comfort.
Installing your attic ladder will require us to choose the best space and insulation so as not to disrupt the heating and cooling of your home. These passageways can be an unfortunate source of energy loss. To ensure this doesn't occur, we will choose doors and construction methods that will complement the existing insulation of your attic space.
Attic ventilation is an essential factor to consider if you are going to put anything of importance in your attic. These spaces tend to take the brunt of both hot and cold temperatures which may cause damage to the items in your loft. We have various ventilation options that we can discuss with you depending on the attic construction and your specific needs.
If you're ready to discuss your attic ladder options, we would be happy to bring our years of experience to your home so we can give you our best guidance on this subject. Please contact us today to set up your appointment. Call Paul for an obligation free quote on 0423 423 334.