Perth Attic Storage Room by Attic Lad WA
A Perth attic storage room by Attic Lad WA is ideal for anyone looking to store and easily access their belongings in a clean roof space environment. The dust proof attic room is ideal for storing items such as camping equipment, clothing, baby goods, suit cases and more.
Attic Lad WA specializes in the construct of Clean Attic Storage Rooms by using durable silver-cell 3 in 1 R rated insulation wrap. Also, particleboard flooring which is rated for 75 kg per square meter and a quality attic ladder for access. I can also supply and install a number of optional extras, such as extra handrails, kick-boards and ventilation alternatives.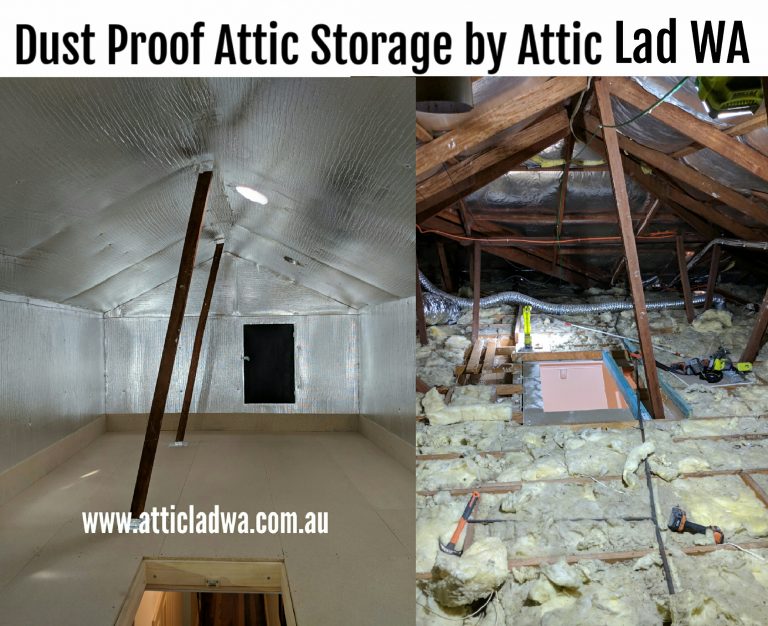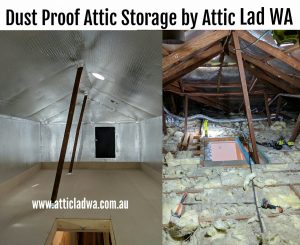 The installation process is usually completed within 2 – 3 days (dependent on size and optional extras).
The typical starting price for 10 sqm attic storage room normally works out at around $5200.
If you would like more information on my services please feel free to contact me on 0423423334 
I have built my business on delivering the best service possible and I always find it very rewarding when my customers leave me reviews ! Check out Joel's recent review on my Facebook page, which was very much appreciated.
From the outset Paul was great to deal with; very open, honest and professional. My wife and I were after an attic ladder and 15 square meters of platform storage. Paul responded to my query very promptly with an indicative quote and subsequently beat two of his other competitors in terms of price point which was excellent. He was available the same week, and was on site right when he said he would be. The workmanship is fantastic, really cannot fault the quality of the insta

llation. The Deluxe Aluminum ladder is exactly what I wanted, really strong and durable. And we now have a heap of solid usable storage space that's perfect for our families needs. We're both extremely happy with Paul's efforts and would absolutely recommend him to anyone in the market for Attic storage solutions.
Thanks Attic Lad WA for pimping my Attic 

??

 Good on ya Paul!
Perth Attic Storage Room by Attic Lad WA  
Do you need  more storage space at your Perth home ?  Then let Attic Lad WA  install you an attic ladder and create you an Attic Storage Room. Please don't hesitate to contact Paul on 0423 423 334 to get your free, no-obligation quote today.  Attic access ladder installations start from just $795.00. Attic ladder and 10 sq meters of Attic Storage can be installed from only $2000. Dust proof attic storage room from $5200 To check out my completed projects and to see my many Great Reviews, please visit me on Facebook, Houzz and Google my Business .  If you would like more information about my attic ladder & attic storage installations, please visit my Attic Ladders page.
Product Review
Reviewer
Review Date
Reviewed Item
Rating