The Cost of Attic Storage in Perth
With the help of Attic Lad WA's storage solutions, we can bring minimalism into  your home. The cost of attic storage is worth investing in, as it provides the extra space to store all those much loved trinkets. That you are just not ready dispose of!  Thus creating a more tranquil living space.
We all have the habit of putting way too much 'stuff'  into our garages. Or we cram our closets in our homes with clutter.
However, if you think about it! You will see, that your attic can give you much more storage possibilities than you ever thought possible, at a relatively low cost.
Up to 30% of your attic has the possibility of being turned into usable storage space. Which means 30% extra mindful living space!
Which Attic Storage Conversion to Choose?

A basic attic storage installation might be the perfect storage solution for your current needs.  At a relatively small price. I have a 10sq metre package, which includes one of my popular deluxe wooden attic ladders starting at just $2000 fully installed!
For those who are concerned about the dust, heat, rodents, insects etc, you might want to consider a fully enclosed dust proof attic storage room.
There are great benefits in having a dust proof room.
When your belongings are stored in a fully enclosed dust proof attic room they are protected from heat, dust, insects, and rodents. As the dust proof room is fully enclosed and sealed off from the rest of the attic.
The Cost of a Dust Proof Attic Room in Perth 
There are a few companies in Perth offering dust proof attic storage rooms. By choosing Attic Lad WA you will find that my price is very competitive for quality workmanship.
For a 10 sq metre dust proof attic storage room, my price starts at $5200. This includes one of my deluxe wooden attic ladders and a Turbobeam Whirlybird which ventilates the attic room whilst letting in light.  A service door is also included which gives you access to the rest of the attic.
 Dust proof attic storage room
Our dust proof attic storage room is constructed out of a heavy duty foam insulation product. The insulation foam is a 3-in-1 insulation, thermal and radiant barrier. Comprising of an advanced high density closed cell XPE foam material which is sandwiched between two layers of poly woven foil. The foam insulation provides excellent thermal properties, which is ideally suited for use in the construction of dust proof attic rooms. It provides superior thermal ratings to standard 2-in-1 insulation and helps to reduce thermal bridging between the attic and the attic room.
The Cost of Attic Storage in Perth by Attic Lad WA

Do you need  more storage space at your Perth home?  Then let Attic Lad WA  install you an attic ladder and create you some Attic Storage. Please don't hesitate to contact Paul on 0423 423 334 to get your free, no-obligation quote today.
Attic access ladder installations start from just $795.00. Attic ladder and 10 sq meters of Attic Storage can be installed from only $2000.
Dust proof attic storage room from $5200.
To check out my completed projects and to see my many Great Reviews, please visit me on Facebook, Houzz and Google my Business .  If you would like more information about my attic ladder & attic storage installations, please visit my Attic Ladders page.
Check out Trixie's Review on My Google My  Businesses   
Quick and very professional. Honest and reliable. Gives good advice and workmanship is good quality. Highly recommend.
Response from the owner
Thanks Trixie were really pleased to hear you were happy with the service we provide thanks again for your business. Regards Paul Attic Lad WA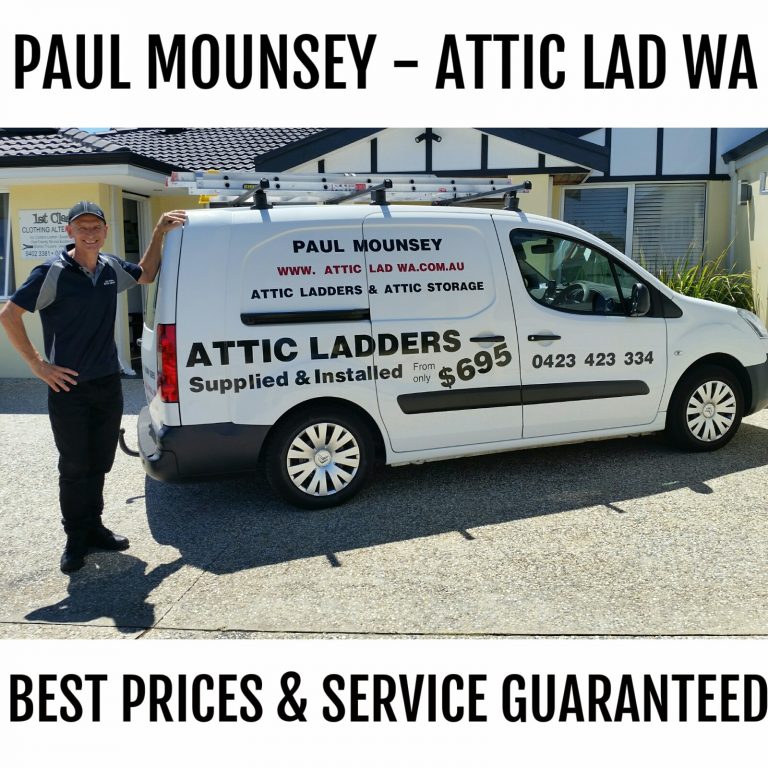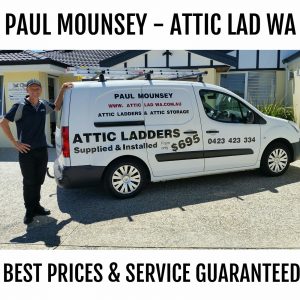 Product Review
Reviewer
Review Date
Reviewed Item
The Cost of Attic Storage in Perth By Attic lad WA
Rating